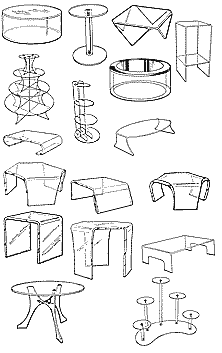 Download the Acrylic PDF Catalog and Order Form here: Catalog
Min order: $100. Sales to Business Only.
Risers are the most versatile display tool for any business, visual display, special event or trade show. Standard three-sided risers are available in five different shapes: square, long, short, tall, and narrow.We also offer a huge variety of specialty risers: three-legged, scroll, mirrored and "glass-look" are a few of them. On hand-made items, listed measurements may vary.
Top