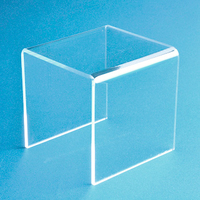 Download the Acrylic PDF Catalog and Order Form here: Catalog
Min order: $100. Sales to Business Only.

Three-sided Risers with finely polished edges are available in five different styles: square, long, short, tall and narrow. For greater stability and a quality look, larger risers are manufactured using thicker acrylic material.
Risers are the most versatile display tool for any business, visual display, special evernt or trade show.
Top