Artificial Greenery: Bushes, Plants & Vines The beauty of nature re-created in silk!" ™.
Save money using artificial greenery to complete your room display. In stock today is a wide variety of artificial foliage and greenery.
From plants to bushes to grasses we have easy maintenance artificial foliage in stock and ready to ship today.

Our foliage is used for retail merchandising, hotel & restaurant decor, casino trim, commercial interiors, theater & movie productions, set design and more!

Min order: $100. Sales To Businesses Only.
Lace Ivy Hanging Bush
Needle Ivy Vine x3
Maple Ivy Bush Vine
Holland Ivy Bush
10" Lace Ivy Plant w/Pot
13" Lace Ivy Plant w/Pot
8"Boston Ivy hanging bush
Philo Bush Vine in Tube




07BOT12L-GR-W
13"Lace Ivy Plant w/Pot, green/white. 910 leaves
pack: 4 pc box /12pc case
(min order: 4)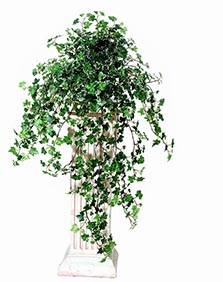 07BOT12S-GR
10"Lace Ivy Plant w/Pot. green, 294 leaves.
$25.00 pc
pack: 6 pc box /36pc case
(min order: 6)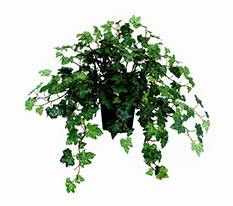 07BOT12S-GR-W
10"Lace Ivy w/Pot. green/white, 294 leaves.
$25.00 pc
pack: 6 pc box /36pc case
(min order: 6)




Top