4 sided, Glass look, 3 legged, sign holder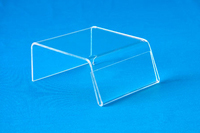 Download the Acrylic PDF Catalog and Order Form here: Catalog
Min order: $100. Sales to Business Only.

Specialty Risers give your products extra interest with their novel styles. Manufactured with finely polished edges andavailable in many different shapes and sizes. Your most versatile display too, the riser is ideall for any business, visual display, special event or trade show.On hand-made items, listed measurements may vary.
Use these clear acrylic displays as
a pedestal for small items, or invert
them to hold spherical objects or
small bowls.
711
Dims: 3/4'' H x 2'' W x 1 3/4'' D
7151
Dims: 1" H x 2 3/4" W x 2 1/4" D
721
Dims: 1 1/4" H x 3 1/4" W x 3" D
731
Dims: 1 5/8" H x 4 1/2" W x 3 3/4" D
741
Dims: 1 3/4" H x 5 1/2" W x 4 3/4" D
751
Dims: 2 1/8'' H x 6 1/2'' W x 5 3/4'' D
Small 3-Legged Risers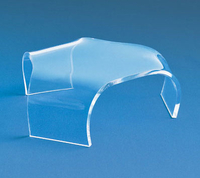 These low profile tray design risers offer a large display area.
Sizes: 3, 4 , 5 and 6" high
RTY1
Dims: 3'' H x 12'' W x 8'' D
x 1/4'' Thickness
RTY2
Dims: 4'' H x 15'' W x 10'' D
x 1/4'' Thickness
RTY3
Dims: 4'' H x 18'' W x 12'' D
x 3/8'' Thickness
RTY4
Dims: 5'' H x 21'' W x 14'' D
x 3/8'' Thickness
RTY5
Dims: 6'' H x 24'' W x 16'' D
x 3/8'' Thickness
Tray Style Risers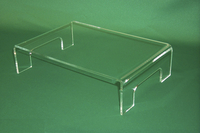 Top