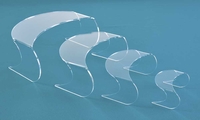 Download the Acrylic PDF Catalog and Order Form here: Catalog
Min order: $100. Sales to Business Only.

Risers are the most versatile display tool for any business, visual display, special evernt or trade show.
In stock are the largest variety of styles and sizes available today. On hand-made items, listed sizes may vary.
Top