Acrylic Displays for Liquor
Wine Bottles and Glasses- Bar Displays
Download the Acrylic PDF Catalog and Order Form here: Catalog
Min order: $100. Sales to Business Only.
Acrylic Countertop Stairs are a popular way to make efficient use of valuable counter space for bottles and glasses.
The many different sizes and styles make it easy to create eye-catching displays.
Great for bars, rest aurants and trade shows! These stairs feature polished edges and are available in either clear, black or frosted acrylic.
Lighted Stairs for Liquor Bottles and Glassware.
On hand-made items, listed measurements may vary. vary.
Min order: $100. Sales to Businesses only
Item#ST9CL
Dimensions: 18 1/4"L x 12 1/2"W x 12 1/2"H.
Step is 4" deep.
Ships fully assembled.
This lighted stair display ships completely assembled and ready to use. Just plug in and turn on the switch!
Easily display 9-15 liquor bottles or stemware on this three level unit .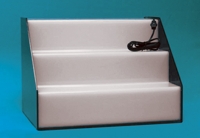 click image to view close up
These unique lighted stairs have a special low-heat bulb with a brightness equivalent to 75 watts.
The glow through translucent white steps illuminate without glare.
The sides are black acrylic to keep the light in and there is a solid, slide-up back to easily change the bulb.
The sides of this shelf are made of black acrylic.
Three level shelf displays 12-15 bottles, glassware or other transparent items.
Cord features an easy to use rolling style on-off switch.
Ships fully assembled.
ST9CL Lighted Stair Display can hold 9- 15 bottles or glasses 2-4" diameter.
This beautiful 24" wide, three-step lighted stair display highlights your spirits and fine wine bottles.
The width easily displays 12- 21 liquor bottles or stemware that are "2-4" in diameter.
This three level stair display is made of black acrylic sides and risers with translucent white stairs.
The inline switch makes it easy to turn on and off.

Item# 880-18945
13"H x 24"W x 12-1/2"D
item#880-18945
Easily display 12- 21 bottles or glasses that are 2-4" diameter.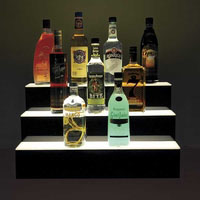 Item #
Description
Dimensions
880-1780
for 4 stoppers
2"H x 6.5"W x 3"D
880-1775
for 5 stoppers
3-1/4"H x 12"W x 2"D
880-1770
for 12 stoppers
6-1/4"H x 8-3/4"W x 6"D
item#880-1780,1775, 1770 Display Bottle Stoppers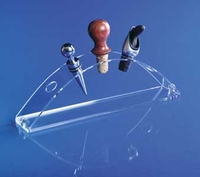 Item# 880-1880 holds a single bottle in a horizontal position.
Gracefully balancing the bottle's weight at the neck.
Great for wine-tastings, weddings and buffets
Item# 880-1880
Item# WRB5 and WRB9 hold multiple bottles in a horizontal position.
The 5 and 9 wine bottle displays are an elegant way to display wine.
Item #
Description
Dimensions
880-1880
for 1 bottle
10"H x 4"W
WRB5
for 5 bottles
11"H x 17"W x6"D
WRB9
for 9 bottles
16"H x 21-1/2"W x 6"D
Item# WRB5 for 5 bottles
and WRB9 for 9 bottles
Display multiple bottles in these
crystal clear acrylic wine bottle displays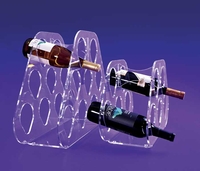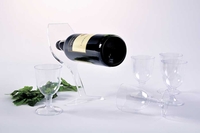 Top
© 2017. Display It LLC All Rights Reserved.