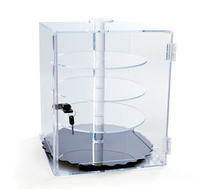 Download the Acrylic PDF Catalog and Order Form here: Catalog
Min order: $100. Sales to Business Only.
Revolving Shelf Security Case
This four level manually revolving shelf case has a clearance of 3 1/4" between shelves, making it ideal for displaying boxed rings. Has a locking door with both top and bottom ability to rotate shelfing.
RRLC 14H x 12Wx12D
Top