Acrylic Clip Together Shelving & Display Kits

Minimum order: $100 Sales to Businesses only.
We offer your business a complete selection of Showcases & Floor fixtures.
Items include tray guard kits, open shelf kits, locking case kits and create your own shelving.
Our displays are designed to display merchandise & table top exhibits in a convenient a portable fashion.\
On hand made items, listed measurements may vary.
Showcases & Floor Fixtures

This kit makes a three compartment case with a locking hasp. Three sizes available. HxWxD
CCLK8 25 1/2X9X8 1/2
8" x 8" compartment size
CCLK10 31 1/2X11X10 1/2
10" x 10" compartment size
CCLK13 40 1/2X14X13 1/2
13" x 13" compartment size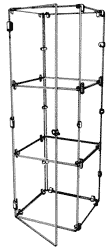 Locking Case Kit
Top