Label Bases: 3/8" thick Acrylic
Download the Acrylic Display PDF Catalog price list and order form here:


|Min order: $100. Sales to Businesses only
From 2" up to 5" square base has a 3/8" high space to place your identifying label.
Group several items on a single base or create interesting arrangements by using acrylic bases of various heights and shapes.
On hand-made items, listed measurements may vary.

The angled area on the front of these bases is for an
identifying label or plaque.
Label space is 3/8" high.
Specify clear or black (B).
3/8" Height x Square
KF2 2"
KF3 3"
KF4 4"
KF5 5"
Label Base
label space is 3/8"
Available clear or black (B).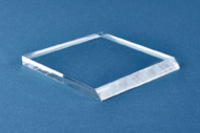 Top