Solid Acrylic Columns
Download the Acrylic Display PDF Catalog price list and order form here:


|Min order: $100. Sales to Businesses only
A base is often the most important finishing touch for a collectible or merchandise item.
Gouping several items on a single base, or create interesting arrangements by using acrylic bases of various heights and shapes.
Highly polished, crystal clear blocks are available in many different sizes and styles. Some in black acrylic.
On hand-made items, listed measurements may vary.
Display Bases & Blocks

Clear acrylic columns add elegance and height to your product.
Height x Diameter
CR11 1-1/2 x 1-1/2
CR12 3 x 1-1/2
CR13 4-1/2 x 1-1/2
CR21 1-1/2 x 2
CR22 3 x 2
CR23 4-1/2 x 2
CR31 1-1/2 x 2-1/2
CR32 3 x 2-1/2
CR33 4-1/2 x 2-1/2
Solid Acrylic Columns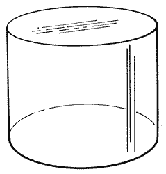 Top