Acrylic Counter Top Bin Display Systems

Minimum order: $100 Sales to Businesses only.
Create the ideal modular display for small items that take up a lot of counter space.
Useful for beads, buttons, gems, marbles , tumbled stones, screws, hooks and small items.
These all-clear acrylic bins give visibility to your products and let light through.
We stock different sized bin systems to meet your needs.
On hand-made items, listed measurements may vary.
How to order the bin system:
Choose the size system you want :
Standard,Wide, Narrow, Extra-Large or Min bins.
The tray size makes the difference between the systems.
Choose how many tiers of trays you want in the system.
Choose from the single divided-tray options listed with each system.
Sides and trays are sold as one unit.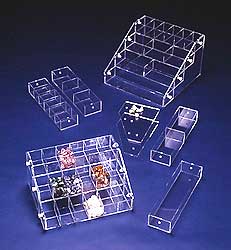 For more Acrylic Displayers, click on any of these categories:
Acrylic Cleaners
Apparel Displayers
Cosmetic Displayers
Countertop Displays
Display Bases & Blocks
Easels
Egg & Sphere Displays
Eyewear Displays
Food and Bulk Dispensers
Jewelry Displays
Light Bases & Turntables
Literature & Card Holders
Mineral, Fossil & Seashell Displays
Ornament & Specialty Displays
Shoe Displayers
Showcases & Floor Fixtures
Slatwall Fixtures
Turntables
Top