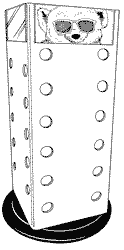 Download the Acrylic PDF Catalog and Order Form here: Catalog
Min order: $100. Sales to Business Only.
Acrylic Countertop Revolving Eyewear displayers for multiple frames.
A number of styles to choose from.
Revolving 22 Frame Display for Countertop
Acrylic mirrors border the top of this white acrylic display on a white lazy susan base. 5 3/16" between holes.
OMH22 white 21 1/2 H x 12 dia. "
OMH22OS With optional Sign Holder
fits diagonally and holds a 5x7" sign.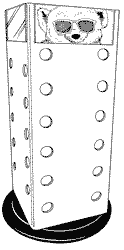 22 Frame Countertop Display
OMH22
Pocket Shelf Countertop Display
Display 28 frames on this four-sided clear acrylic pocket-style turner on a lazy-Susan base.
Both open and locking styles available. OPSL Locking Model shown.
OPS open 24 x 10 x 10 "
OPSL locking 24 x 10 x 10 "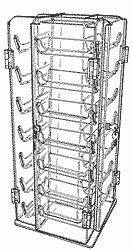 Pocket Shelf Countertop Display
OPSL (shown locking style)
White Acrylic 24 Frame Countertop Display
Center nosepiece rests allows frames to be displayed in an open position.
Top is accented with two acrylic mirrors. 5 3/16" width between holes.
An optional 5 x 7 sign holder may be ordered to fit in top.
OFN1 white
22 x 14 x 14 "
OFN1OS With optional Sign Holder. Holds 5x7" sign.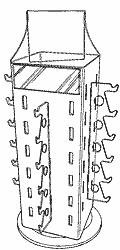 White Acrylic 24 Frame Countertop Display
OFN10S (shown with optional sign holder)
Top